How will robotics change our life?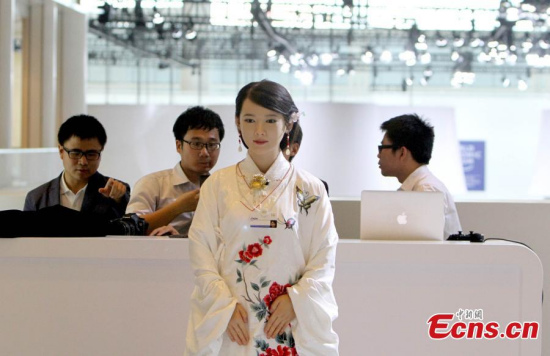 Humanoid robot Jia Jia interacts with visitors at the Annual Meeting of the New Champions, part of the World Economic Forum's various themed gatherings and also known as 'Summer Davos', in Tianjin, June 27, 2016. (Photo: China News Service/Zhang Daozheng)
Robots, tiny drones and brainwave sensors exhibited on the sidelines of the Summer Davos in Tianjin have offered a glimpse into the future.
Kevin Chen spent most of the event, established by the World Economic Forum (WEF) and also known as the Annual Meeting of the New Champions, introducing his "RoboBees" to curious visitors to the Exploration Zone.[Special Coverage]
These tiny and light machines, roughly the shape of a bee, can fly and perch by flapping their wings 120 times per second, rather than using blades like most unmanned aerial vehicles, according to Chen, a Chinese PhD candidate at Harvard University.
Chen and his team at Harvard Microrobotics Laboratory used artificial muscles custom-made from carbon-fiber sheets to power the RoboBees.
"[They] can be used to spread pollen or search for people buried after disasters," said Chen.
RoboBees were not the only animalistic drone at Summer Davos, which ran from Sunday to Tuesday. Also on show were robots imitating the movement of snakes and spiders and designed to assume search and rescue tasks.
It may be a while before they become reality though.
Chen's bees can only fly in a lab with wires. Autonomous flights require fast and continuous sensing couples with positioning and fast reactions.
"Fitting and integrating the necessary sensors, controllers, actuators and electronics is still a work in progress," said Chen.
One of the most popular exhibits at the Exploration Zone was a brain-machine interface developed by San Francisco firm Emotiv.
When a user puts on a headset, his or her brainwaves are linked wirelessly to a small white ball and can light it up with different colors. Testers at the zone were able to move the balls with their minds.
According to Emotiv engineer Phan Manh Tien, the company started to develop the interface in 2009. It is expected to be used in computer gaming and market research, where it can record test subjects' emotional reactions to goods or experiences.
Humanoid robot "Mybot," created by researchers of the Korea Advanced Institute of Science and Technology (KAIST), can put objects of different colors and shapes in corresponding boxes.
Mybot has the capability to learn, instead of just doing programmed tasks. It can serve drinks, make simple dinners and do domestic chores.
KAIST also put pilot robot "PiBot" on display in a flight test simulator. The researchers said they were working to teach PiBot how to deal with emergencies like bad weather.
The Summer Davos this year was themed "The Fourth Industrial Revolution and Its Transformational Impact."
The First Industrial Revolution used water and steam power to mechanize production, the second used electric power to make possible mass production, the third used electronics and information technology to automate production.
WEF executive chairman Klaus Schwab said a fourth industrial revolution is taking place featuring a fusion of technology that is "blurring the lines between the physical, digital and biological spheres."
Fears that robots or artificial intelligence may enslave humans renewed after Google's program AlphaGo defeated Korean Go grandmaster Lee Se-dol with a score of 4-1 in a historic match in March.
But Schwab believes scenarios where robots conquer humans will only happen in movies. He said robots will always be mastered.
2016-06-29 10:36Xinhua Editor: Gu Liping